Welcome to Your Promotional Products
Sending Your Message Without Saying a Word!
Since 1985 companies in various industries have enlisted our help to expand their marketing programs. Choosing the appropriate promotional product is crucial in any marketing campaign.
There are many factors to consider and the help of a professional dedicated to detail will make a significant difference in your effort's ROI.
Our goal is to assist while at the same time lowering your budget. Significant assistance is available to help the non-profit stretch their marketing dollars.
We Suggest Going Green with Eco-Friendly Products!
Featured Item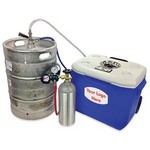 Bottoms Up Beer Unit
Originally only available for large concessionaires at stadiums, now this beer dispensing system is made in a portable Party Cooler version for home and small events such as company picnics, street fa...
$1,675.00